This turnbuckle has an open body providing a rustic or industrial appearance for that timeless look, ideal fasteners for projects requiring tensioners or turnbuckles for stainless steel wire rope.
The welded eye and the open hook, allow these fasteners easily adjust on a secured post or frame, and can be attached to a saddle or lag screw eye.
Turnbuckles use both right-hand and left-hand threads, these allow the body of the open turnbuckle to easily provide tension to your wire rope, without bending or stretching the wire.
Tighten the body of the open turnbuckle by rotating the body clockwise untill tensioned to your needs.
The welded eye end of the turnbuckle is easily fastened to a saddle.
↓ ID19009 Open Body Hook and Eye Turnbuckle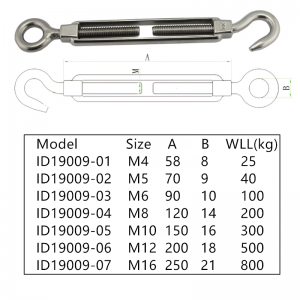 ---
↓ ID19010 Closed Body Jaw and Jaw Turnbuckle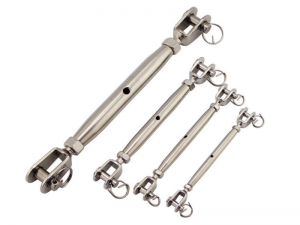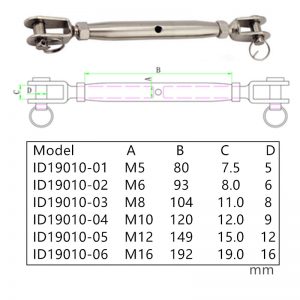 As one of rigging hardware manufacturer, we supply related rigging hardware and sailboat rigging parts according to your requirements.